Root Canal Treatment Mississauga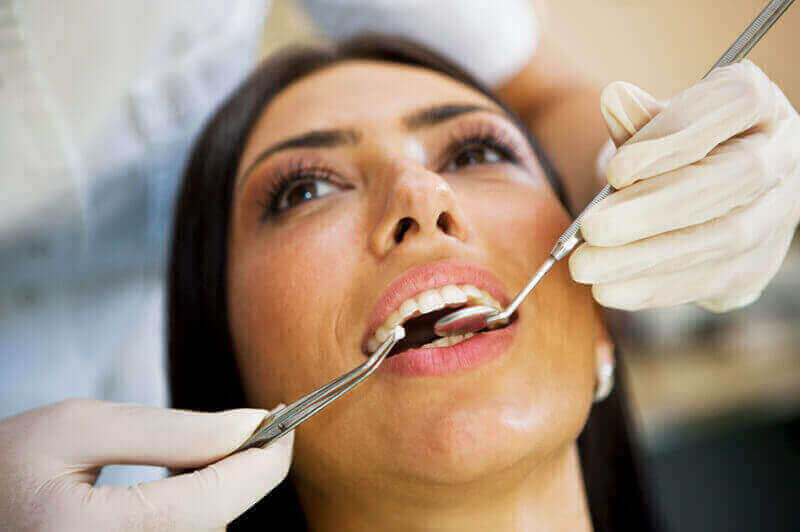 Root canals can be a tricky procedure but our professional team at Sana Dentistry are experts when it comes to root canals which is why we are Mississauga number one choice.
Root canals are a common dental treatment we provide, our root canal dental team can give you the direction you need around the root canal procedure and the costs involved so there are no surprises.
What Is A Root Canal?
Root canal treatments are designed to help remove the damaged nerve from a tooth. The procedure begins with our professional team cleaning and filling the canal to prevent any bacterial infections that may occur.
The main goal of a root canal treatment is to save the tooth while removing damaged nerves and blood vessels from inside the canal. This then allows for the tooth to remain in place for aesthetic and functional purposes
Root canal procedures have come a long way in recent years and are normally considered a painful procedure. However, it isn't as painful as most people think.
There are many reasons to visit our Mississauga Dental Clinic for this procedure and some of these reasons include:
Nerve and blood vessel damage
Restorative purposes
Abscesses
Tooth sensitivity
Our professionals at Sana Dentistry will ensure that the procedure is carried out in an efficient and painless manner so that you end up with a result that will make you smile!
Cost of a procedure like Root Canal depends a lot of the complexity of the case. Read more on cost of root canal here.
Why Choose Our Root Canal Treatments?
We customise our root canal treatments to suit the individual needs of each patient and take the time to understand what's important to you
Our dental experts strive to provide the highest standard of care using the latest technology and proven techniques with the assistance of friendly and supportive staff
We are a professional and experienced dental practice specialising in a broad range of dentistry procedures in addition to root canals
Our expert team pride themselves in taking the time to build relationships with each patient, and ensure that everyone is treated individually as a person, not just a patient
We take a caring and compassionate approach and are gentle but effective with our root canal procedures
Our team of experts are committed to educating you about post care and maintenance of your teeth once your procedure is complete
We provide flexible appointment times to suit you no matter what dental procedure is being performed
Our Dental Clinic has ample parking and is easily accessible by public transport
We offer transparent pricing and flexible payment options that make your treatment more affordable
Signs You Need a Root Canal
Following are some of the specific things to look for. You can detect some of the symptoms on your own, while only a professional like Sana Dentistry can detect others.
The onset of pain and signs of an infection or swelling are often the first hints that a tooth has an issue.
The most obvious sign that a root canal treatment might be needed are the symptoms that come with an acute tooth flare up. These symptoms include:
Spontaneous pain that appears quickly
Formation of pus
The tooth becoming tender or sensitive to pressure
Swelling of adjacent tissues
Luckily, it's quite rare for all these symptoms to appear at the same time. If you do notice one or more of these symptoms, it's time to visit us at Sana Dentistry.
An infection inside the tooth will form pimple-like lesions on the gums.
Over time, the size of these lesions can increase or decrease, as these serve as a drainage mechanism for the pus and can leave a horrible taste in your mouth.
This can sometimes occur due to an infected tooth. The area can form a noticeable, slightly tender lump that you can actually feel.
If a tooth has had an unexpected change in colour, often to a darker colour than the surrounding teeth, it's a sign that there might be a problem in its nerve space.
X-rays can help identify this and will often reveal an infection as a dark spot, which is usually located at the tip of the root of the tooth.
The loss or damage of previous dental work, such as crowns or fillings, can expose the tooth's nerves.
This can lead to intense pain when air and hot or cold substances touch the tooth. If this is the case, we would recommend root canal treatment.
Is Root Canal Treatment painful?
Most patients feel little or no pain during the actual root canal treatment. Read more here.
What to expect in a Root Canal Procedure?
As mentioned earlier, a root canal procedure is performed to treat and save a severely damaged or infected tooth.
During the procedure, we will remove the damaged part of the tooth (usually an infected nerve), disinfect and clean the tooth, and then fill and seal it depending on what's left of the tooth.
Firstly, we will take an x-ray of the tooth to examine the root canals and find out whether there's an infection in the bone around the tooth.
We will then administer a local anaesthetic to numb the area around the tooth. The tooth is then isolated and a hole drilled inside the affected tooth to remove its pulp or the infected nerve.
The whole process may require several appointments to allow our dental expert to thoroughly clean, disinfect, and then shape a hole inside the tooth.
This is in preparation for the placement of a sterile filling inside the tooth.
If necessary, we may also insert small support into the root canal to strengthen the tooth, or even cap it with an artificial crown.
Root Canal Aftercare
Once the root canal treatment is complete, we will provide you with a list of after-care guidelines to follow. These include:
Avoid eating until the numbness has dissipated.
Be on the lookout for any visible reactions or swelling. If you notice any of these, contact us immediately.
Avoid biting or chewing with the treated tooth until it's fully restored with a crown or filling.
Pay attention when you bite. If the tooth feels uneven, please contact us.
Maintain proper oral hygiene – brush and floss your teeth as you normally would.
If you are looking for a compassionate, professional and experienced dental clinic for your root canal procedure, please call us at Sana Dentistry today on (905) 607 3330.